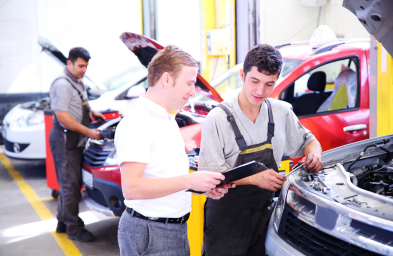 Limerick Auto Body has provided high-quality collision repair services to customers in Limerick, PA, and the surrounding areas for over 30 years. 
We are a full-service facility offering auto body repair in Limerick, PA. Our experienced technicians use state-of-the-art equipment to quickly get you back on the road. 
When you bring your car to us for autobody repair, you can rest assured that every staff member is dedicated to your satisfaction. We guarantee you won't find a better service or product quality elsewhere.
We understand the stress and frustration of being involved in an accident, so we provide a wide range of services to make the repair process smooth and seamless. 
We'll work with your insurance company to cover the repairs and do our best to get your car back to you as quickly as possible.
Auto Body Collision
Auto body collisions are never fun, but our Limerick Auto Body team is ready to help. We'll work with your insurance company to file all the necessary paperwork and get your car to the body shop as quickly as possible. 
We know waiting on collision repair in Limerick is a hassle for customers. So we'll do what it takes to help you through this frustrating process as efficiently as possible. Let us care for everything so you can focus on returning to the road.
Auto Body Repair
Auto body repair can be stressful and time-consuming, especially with an auto collision. Fortunately, the team at Limerick is here to help.
We'll handle the details so you can focus on returning to the road. We can complete repairs, from minor dents and scratches to significant bodywork and auto paint repair. 
No matter the size or scope of the job, we'll work quickly and efficiently to get your car back to you in pristine condition.
Insurance Repair
If you've been in an accident, the last thing you want to worry about is dealing with your auto insurance carrier. Auto repair insurance can be a pain, especially when you don't know what you're entitled to. 
Let Limerick Auto Body negotiate your auto collision insurance claim on your behalf and take the stress out of the process! We have over three decades of experience working with all major auto insurance providers and can help make the claims process as smooth and stress-free as possible. 
We'll work on your behalf to get the repairs started. Then we'll serve as the point of contact for your insurance company until the process is complete. You can focus on getting back on the road and leave the rest to us.
Auto Body Repair in Limerick PA
So if you're looking for a one-stop-shop for all your Limerick auto body repair needs, we're right here! We're here to help you get your car back in tip-top shape and get you back on the road.
Limerick Auto Body is a trusted source for auto body and collision repair in Limerick, Pottstown, and Royersford. We offer free estimates to get an idea of the cost of repairs before you decide what to do. Contact us today to schedule your appointment!